It is with great sadness we accept the word that has come our way, that our friend and colleague, İlhan Başgöz, passed away on April 13, 2021, in Ankara, capital of the Turkish Republic. Born in Gemerek, in Sivas Province of Turkey, evidently in 1923 (or possibly in 1921 -- there is some uncertainty about the year of his birth), İlhan obtained his doctoral degree in Folklore from the University of Ankara in 1949, where he studied with the father of Turkish folklore studies, Pertev Naili Boratav, and conducted the field research with poet-reciters known as ashiks that made him the leading authority on the oral poetry of the Turkic peoples. İlhan came to the United States in 1961 and arrived in Bloomington in 1965 as an assistant professor in the Program of Uralic and Altaic Studies, becoming a fellow of the Folklore Institute and later founding the IU Turkish Studies Department. He retired in 1997 but remained active as a scholar and present as a colleague in the years following his retirement.
The story of İlhan's life is of epic proportions, worthy of recitation by the skilled verbal artists he brought to life in his many seminal publications. I am not that poet, so will instead highlight only a few of the fond memories I carry with me from time shared with my Turkish friend, hoca, master, or teacher, as his many Turkish companions and students called him. And I will slant these recollections to the piece of İlhan's storied life that connects him to the folklore scene at Indiana University.
How to tell this tale? I begin with İlhan's participation in the fellows of the Folklore Institute, a remarkable cohort of folklore scholars in various departments at IU, gathered by Stith Thompson, initially, when there was no folklore department here, and then persisting into the first few decades of the Dorson period, after Richard Dorson arrived to establish the Folklore Institute as an academic department in the College of Arts and Sciences. In my early days in Bloomington, spanning the late-1970s into the 1980s, the fellows were a valuable extension of the department – colleagues like William Hansen, Felix Oinas, Merle Simmons, William Wiggins, and of course, İlhan Basgöz, played an active role in the affairs of the department, attending and voting at faculty meetings, serving on (and even directing, in some instances) student research committees, offering courses joint- and cross-listed with our offerings, giving talks at department colloquia, and socializing with us as members of an extended IU folklore family.
İlhan emerged as a true partner in the folklore enterprise here. One of many highlights would be when we worked with Ilhan to publish in 2008 his brilliant study of hikaye, Turkish romance poetry, in our series, Special Publications of the Folklore Institute. The book is titled Hikaye: Turkish Folk Romance as Performance Art, and it addresses this important genre from historical, cultural, and performance perspectives. Ilhan was proud to count himself among the folklorists who fashioned the dominant paradigm of our times, performance-centered folkloristics. I was able to arrange for a book-signing event with Ilhan at the 2008 meetings of the American Folklore Society in Louisville, an event that was very pleasing to him.

İlhan Başgöz, American Folklore Society, Louisville, Kentucky, 2008
When İlhan entered into retirement, he endowed our department with funds to create a fellowship for talented students in Turkey to attend graduate studies in our department. Thanks to the İlhan Basgöz fellowship, we have been able to bring a series of outstanding Turkish students into our graduate program, where they have flourished, and then send them out into the world to put their degrees to use in public-facing and academic settings.
A wonderful event for me was the session we did at the IU Archives of Traditional Music in 2018, where I served as interlocutor and İlhan spoke about his field research in Turkey; Alan Burdette and his crew over there provided audio recordings, which Ilhan complemented with tales from the field, about the artists who performed and the occasions where the performances took place. A story that sticks in my mind is this one: İlhan was documenting the performance of a hikaye in a coffeehouse; as the ashik approached the ending, where the two young lovers inevitably perish, a man rose in the back of the place, waving a pistol, to fiercely admonish: "If you kill them, I will kill you." According to İlhan, the poet used his improvisatory skills to rework a more favorable ending, for the story protagonists and for himself.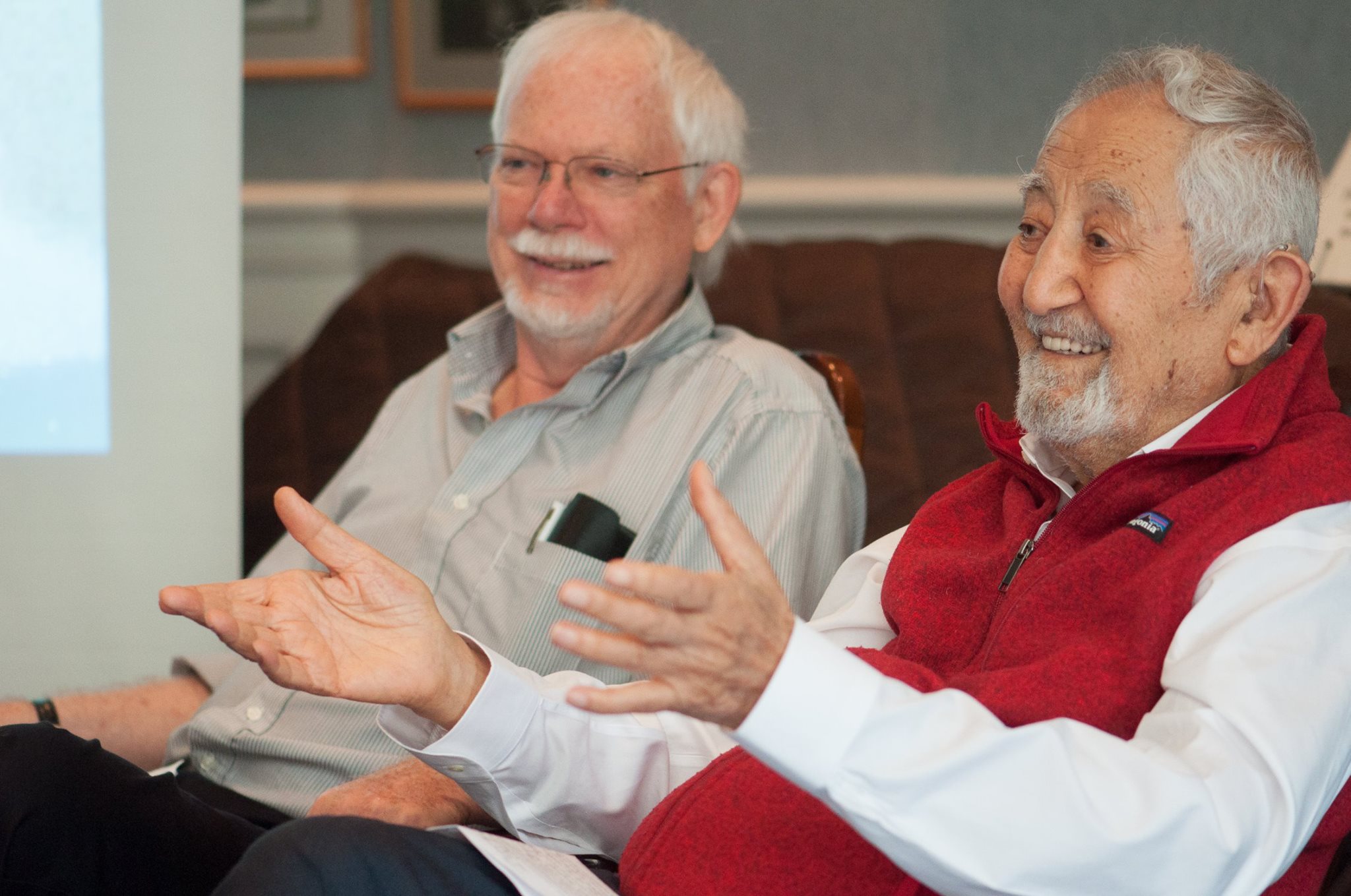 John McDowell & İlhan Başgöz, 2018 (photo by Alan Burdette)
These are only a few highlights, chosen from among many others, of Ilhan's productive engagement with our department. On a more personal note, I can say that İlhan was more than a friend to me – perhaps "kindly uncle" is the best analogy. I recall hard-fought rounds of table tennis – İlhan was a serious athlete. There were many festive gatherings of friends at his house near Lake Griffey; indeed, over the last two decades, this house served essentially as a cultural salon, a place where poetry, song, music, dance, and lots of lively conversation were to be had.
A few years ago my wife Pat and I were able to visit İlhan in his quarters in Ankara at METU, Middle Eastern Technical University, where he continued doing seminars and workshops, and where he was very much revered. A highlight of our time in Turkey, where İlhan and his student, Sultan Yetgin, took very good care of us, was visiting with İlhan the neighborhood in Ankara where he had spent some of his formative years. Pat remembers well singing with Ilhan the American song, "Where Have All the Flowers Gone," and İlhan's fondness for it.
Let me close with this last anecdote. A few years ago my wife and I were attending at Bloomington's Buskirk-Chumley theater one of the fine Silk Road concerts organized by İlhan's student, and my friend, Shahyar Daneshgar. At one point, Shahyar directed the glance of the large audience over to Ilhan, to recognize the presence of this distinguished Turkish scholar. To my surprise – I was sitting beside İlhan – he rose to his feet and made his way to the stairs leading to the stage. There he set about reciting, much to the delight of the audience, a poem in the Turkish language. Here was a man who knew how to seize the moment, and make the most of it! 
So I bid İlhan farewell, reveling in the memories and consoled by the many illuminating works he has left for us to read and re-read, always coming to a greater understanding of the traditions he cherished and a greater appreciation of the scholar who enlivened them with his research.
John McDowell, April 20, 2021